The story of a 23-year-old journalist who caught the attention of Alfred Mutua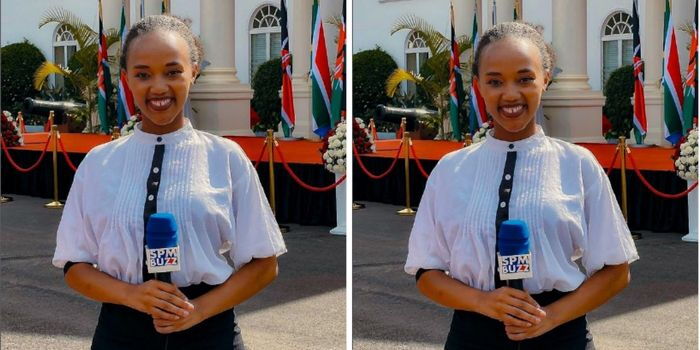 Liz Jackson, journalist for Buzz MPS, a local media house, caught the attention of State House dignitaries after posing a foreign relations question to President William Ruto and his South African counterpart, Cyril Ramaphosa.
Foreign Cabinet Secretary Alfred Mutua at State House was among the officers of state at State House on Wednesday, November 9.
Jackson was among the few reporters chosen to pose questions to the two heads of state. At the time, Ruto announced that Kenyans would travel visa-free to South Africa for 90 days.
"What will be put in place to ensure that culture, art and entertainment is facilitated between the two countries. We love South Africa, it has good scenery, will t -it easier to go shoot in South Africa", she asked.
A screenshot of Foreign Cabinet Secretary Alfred Mutua (left) and Liz Jackson (right) at State House on Wednesday, November 9, 2022
Twitter
"Maybe I should start with Liz…" Ruto said when responding to reporters at State House. A video of his interaction with CS later went viral online.
"Thanks mheshimiwa," Jackson tweeted after the State House event ended.
She notably graduated from the Jomo Kenyatta University of Agriculture and Technology (JKUAT) with a degree in Project Planning and Management. Jackson graduated on June 28, 2022.
She is also a television host and actress. Liz describes herself as a digital strategist and role model who has been featured in several music videos.
In a past interview, the reporter noted that she had dreams of being a pilot and was in the aviation club at Pangani Girls High School.
However, she became interested in project planning, which she said was flexible, allowing her to focus on her content creation.
Growing up in the village and moving to Nairobi when she was in second grade was quite difficult for her. She said she found it difficult to blend in with the other children at school.
Nevertheless, she managed to adapt and learn both Kiswahili and English. Jackson also started sharing videos of his skits before taking online classes to monetize his content.
"I want to ask young people to focus on their future despite being in their 20s to avoid rushing into their 30s and 40s," she advised.
"I think the current generation is too focused on entertainment and just having fun. I'm more focused on my career, I don't want to wrestle when I'm older," she concluded.
Foreign Affairs CS nominee Alfred Mutua appears before the NA CS Audit Committee at County Hall on Monday, October 17, 2022.
National Assembly