open house: Carmen Fields (COM'73), pioneering journalist | Bostonia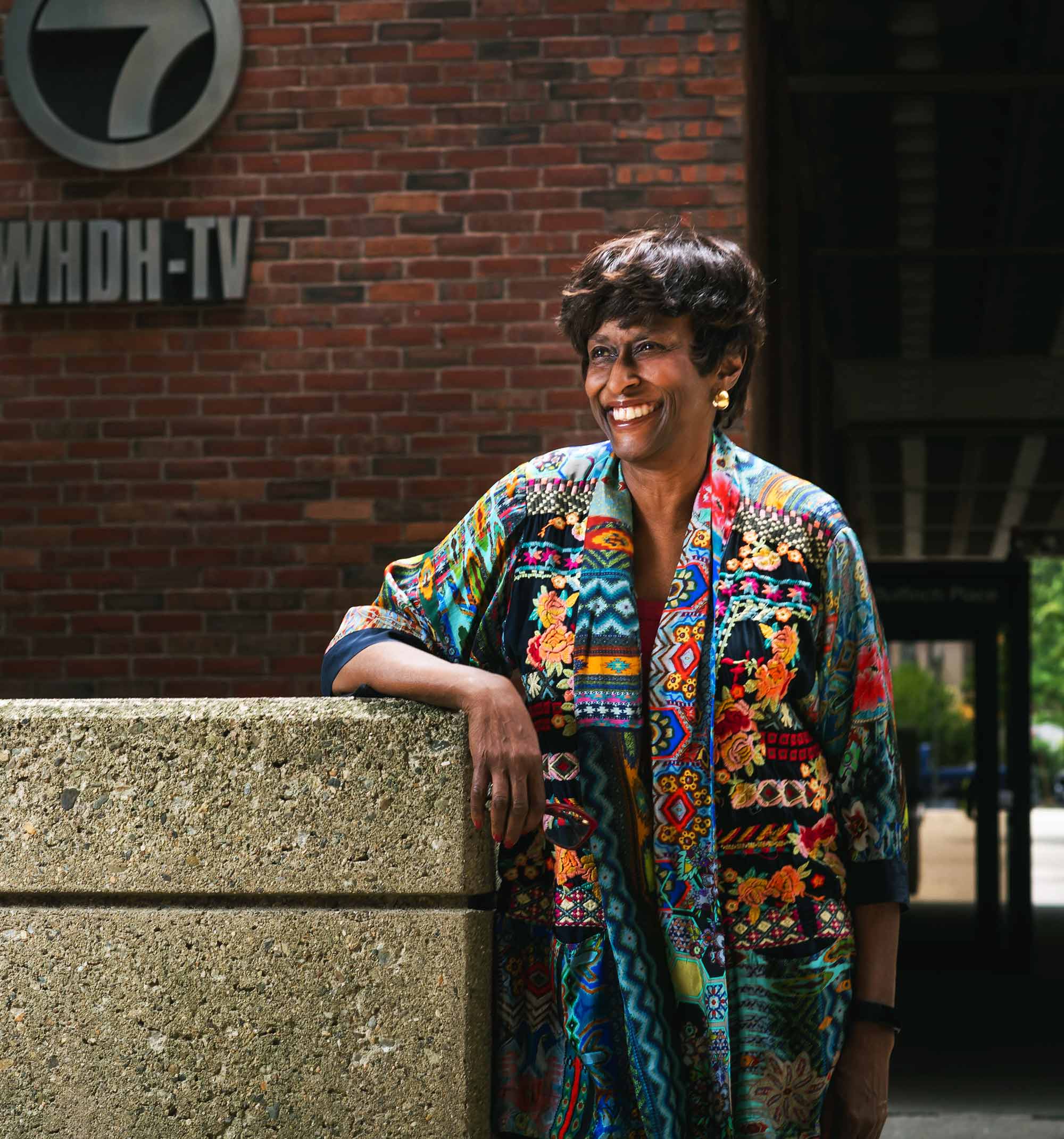 Carmen Fields,

Host and Producer of WHDH-TV Channel 7's higher ground
They are determined to use their experience, influence and positions to help make their business, their organization and their world more inclusive. They break down barriers, then come back to help those behind them overcome the same obstacles. They are BU alumni, faculty and staff – of all races, ethnicities, ages and genders – and they are "open doors" for the next generation.
---
Carmen Fields was at the forefront of black female journalists who propelled the long, slow struggle to diversify America's newsrooms and, in doing so, change the way communities of color are reported and viewed. In 1973, she became one of only two black female reporters in a boston globe newsroom dominated by white men. Fields (COM'73) was on the World team that won a Pulitzer Prize for its coverage of the bitter racial divide over court-ordered buses to desegregate city schools in 1975. It went on to win awards and accolades as a local television reporter and co -presenter and was selected for a Nieman Fellowship at Harvard University, a program for accomplished and promising journalists. For the past 24 years, she has hosted and produced the long-running monthly public affairs program WHDH-TV Channel 7 higher ground.
The 100th anniversary of the 1921 Tulsa Race Massacre last spring brought attention to one of his greatest journalistic accomplishments: the 1993 PBS American experience documentary Return to T-Town. Fields, who grew up in isolated Tulsa in the 1960s, wrote the screenplay for the film, which documents how the isolated Greenwood community of Tulsa had thrived until 1921, when it became the target of a of the country's deadliest racial massacres, and how it ultimately rebuilt.
Bostonia sat down with Fields, who sits on BU's Black Alumni Leadership Council, to talk about the barriers she broke down and the mentors she had.
Q
&

A
With Carmen Fields
Bostonia:
You described the vibrant, segregated community you grew up in and how important that was in shaping you and giving you the confidence to step out into the world. Can you talk more about it?
Fields Carmen: I think part of the advantage of this era is the fact that the teachers and the other role models lived in the same community. So, you would see them at the supermarket, church, bus stop, or wherever your life takes you. And all these people were like your parents. I think someone said in the T-City documentary that we had the highs, the middles and the lows – we were all kind of there together. And it gives a context that I think is missing in today's society. My very real experience was that of a nurturing and encouraging community. They cheer you on when you give your Easter speech in church or at the Christmas pageant. They made you feel like you could do it.
My mother [Bernice Copeland Fields] taught third grade and later became a reading specialist. Her motto was "If you can read, you can do anything," which meant reading anything from a recipe to an instruction manual to a history book.
Reading was the source of knowledge and fulfillment. We knew the library very well. I remember when they built a big citywide library downtown and we were able to get there. It was a big deal. Whenever my mother said, "Have fun," reading was the activity of choice.
Bostonia:
You mentioned that your seventh-grade English teacher was the person who introduced you to journalism.
Fields Carmen: Juanita Lewis, who later married and was Juanita Hopkins. For part of the school year, she had a unit on journalism. And we would take turns writing the school news and submitting it to the Oklahoma Eagle [Tulsa's Black newspaper]. It was my first experience of seeing my stuff in print and feeling affirmed like some sort of seventh grader. It really opened my eyes to this area of ​​journalism.
When I was a senior in high school, Jeanne Goodwin, who wrote a column for the Eagle—his family still runs the Eagle today – invited me to write a few articles while she was on vacation. It was an important occasion.
Bostonia:
You majored in journalism at Lincoln University in Missouri, one of the nation's historically black colleges and universities. How was it?
Fields Carmen: It was a fabulous experience and I would recommend it to all students of color. It was so empowering to see African American doctors everywhere. They were your professors, the heads of departments, the president of the university, the head librarian. The head of the music department, who was also the choir director—I was in the choir—was Oscar Anderson Fuller, and he was the first African-American in the United States to earn a doctorate in music. Dr Lorenzo Green, who headed the history department, was a close friend and colleague of [pioneering Black historian] Carter Woodson, who started the Association for the Study of African American Life and History, and from there grew Black History Week, which is now National black history.
Bostonia:
When you were accepted into BU's broadcast journalism program in the early 1970s, were you aware of Boston's reputation as a city hostile to blacks? And what was your experience as a black student at BU?
Fields Carmen: I had no idea Boston's reputation. And what was shocking to me was that for the first time in my entire life, I was the only person of color in the class. It was very intimidating for me. It was very lonely. I think the first semester was probably the worst three months of my life. I kept thinking, what am I doing here? I remembered the importance of education and the importance of representing.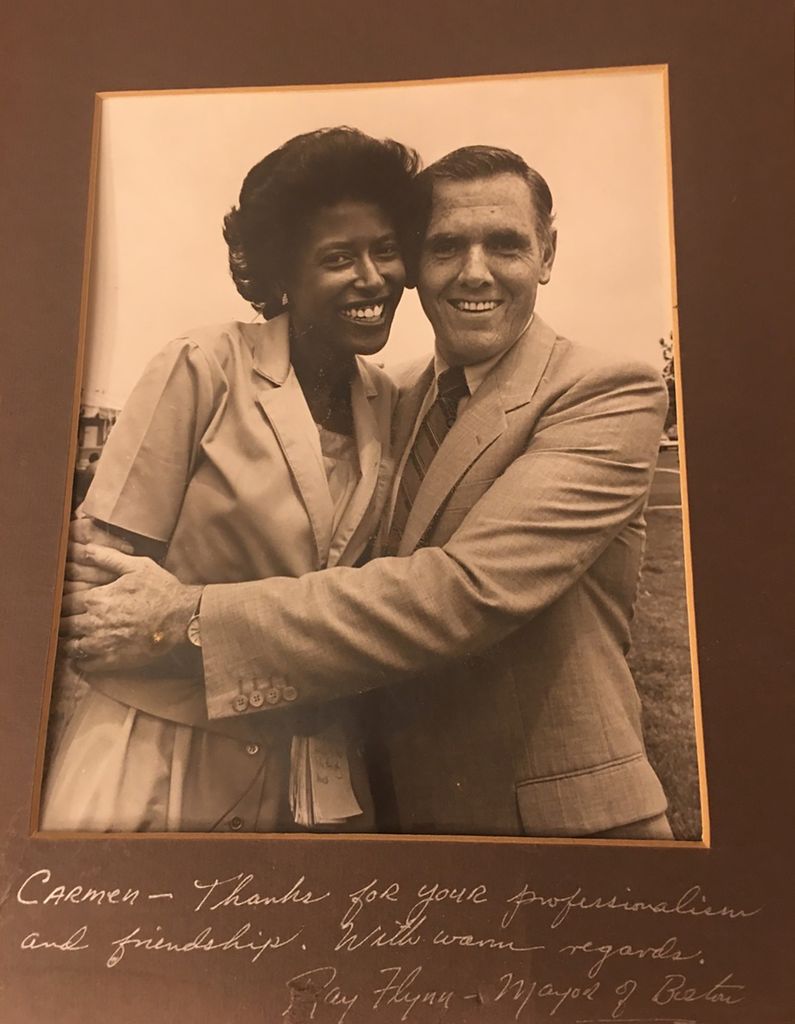 There were two things that helped smooth out this period for me. I had a classmate in high school who was married to a brother who was in law school. She worked like something like a dorm mom. They had an apartment on the BU campus on Bay State Road, and she had a small budget to host dinner parties there. And so we helped him cook, set up the room and serve. Then we would have the leftovers. There was a sense of normalcy and friendship there. I also researched and affiliated with my sorority's graduate chapter, Alpha Kappa Alpha [the sorority that Vice President Kamala Harris joined as a Howard University student]. And it introduced me to a larger black community that was very nurturing and nurturing at that time.
Bostonia:
When did you say to yourself, "Okay, I belong here at BU?"
I don't know if I ever did. It was just a case of getting the grades and finishing, then looking for a job. I was very conscious of not wanting to be a burden on my family. That was the goal – to find a job, and what did they say in the movie Shawshank Redemption—"Busy living or busy dying"?
Bostonia:
Who were your mentors?
Sarah-Ann Shaw, who was the first black journalist on Channel 4 WBZ-TV. She was like my journalist godmother. And she did well to call me and say, "How are you? I was at that meeting—it's not really a television report. But you might want to call so and so from this coalition and see if you can do something in the World."
I learned from another mentor: a Christian Science Monitor journalist, Luix Overbea, [the second Black reporter hired at the Monitor and a cofounder of the National Association of Black Journalists]. He had worked for the Oklahoma Eagle in Tulsa. Once, when I was having trouble with some kind of story, he said, "Never tell them [your editors] you can not find the story. You find some story!" That's such great advice. You know, you come back with some kind of story – and that was my mission and my motto.
Bostonia:
From what you knew, saw and reported in the battles of the 1970s over the bus, what made black mothers and fathers keep sending their children to schools in Boston in the face of any this hatred and this danger?
I can't stress enough the importance black people have placed on education since the days of slavery, when we weren't supposed to learn to read and write. And that same spirit has been infused in many black parents, and the educators of [the 1970s]as well as.
Bostonia:
Considering where you come from and what you've had to endure along the way, how does it feel to look at what you've accomplished?
For a kid from Tulsa, Okla., in a city like Boston that was unfriendly and unfriendly to people of color, I had few complaints. I won't say anything bad. I had my signature on the first page of the boston globe. I had the main story and live shots and everything on TV. And now I produce my own monthly public affairs show. Not bad.
These series
Also in
Doors openning

Series Home