Journalist reveals Leeds United stance on future of key person amid Chelsea links
Leeds United are unfazed by reported interest in their director of football, Victor Orta, from Chelsea.
That's according to Sky Sports reporter Tim Thornton, who says it's no surprise the Leeds supremo is attracting interest from elsewhere.
Orta has of course been at Leeds for several years now, where his recruitment on and off the pitch has been key to the club's rise to the Premier League.
This has seen his reputation grow and he appears to have caught the eye of Stamford Bridge, where new owner Todd Boehly is keen to put his mark on Chelsea.
Recent reports from The Guardian claimed that Chelsea have asked permission to speak to Orta, on the possibility of him taking over as sporting director.
However, it appears that despite this high-profile interest from elsewhere, Leeds remain confident of securing the services of a key figure behind the scenes, judging by these comments from Thornton.
Speaking to GiveMeSport about Orta's links with Chelsea, the Sky Sports reporter said: "I think Victor, first of all, he's really well thought out at Leeds.
"He's quite influential at the club, he's loved by all the staff, he's a great character and he has a fantastic knowledge of players from all over Europe, all over the world..
"When you're someone with a good track record and you've done well, then you'll attract interest from elsewhere.
"But I think Leeds are pretty calm about the situation. Victor has been a big part of what Leeds have achieved over the past few years. »

You think it will be a welcome relief for those of a Leeds United persuasion.
Orta is both a popular and influential figure at the club, so it would be a huge blow to lose him in multiple ways and leave the club under serious pressure to find a replacement.
Indeed, given that you would imagine he is already well-informed of the club's plans for the upcoming transfer windows, his exit could sabotage those ideas, and also give Leeds more competition for targets, with his new club.
It could also see Orta pressure Leeds to have some of his players follow him to Stamford Bridge, given people often return to old targets, so keeping him at Elland Road could be crucial.
Can you see Orta leaving Leeds for Chelsea?
Yes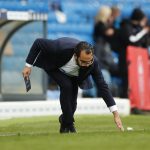 Nope