Journalist inspires new ITV drama The Thief, His Wife and the Canoe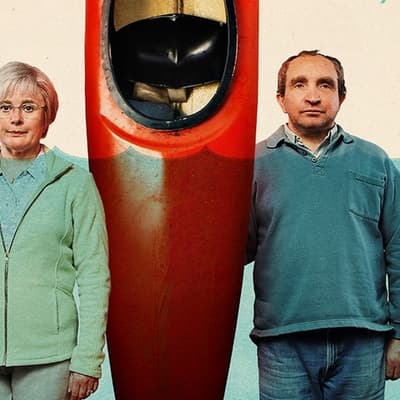 A MAJOR new ITV drama coming this month about the story of notorious 'Canoe Man' fraudster John Darwin is based on an upcoming book by Liphook man David Leigh – the first journalist to find and interview Darwin's wife, Anne, in Panama.
Four-part drama The thief, his wife and the canoe will tell the story of the 'back from the dead' canoeist who faked his own death to claim life insurance and avoid bankruptcy, and how his wife became an accomplice to the daring scam.
Journalist David, who now lives in Miami in the United States, grew up in Liphook, where his father and three brothers still live, and was educated at Churcher's College in Petersfield.
In 2007, then-shimmer journalist flew to Panama, Central America, to find Darwin's wife, Anne.
The flight to Panama City in the Gulf of Panama came after Darwin miraculously reappeared nearly six years after he was thought to have drowned in the North Sea after disappearing in his red canoe.
It later emerged that the former teacher and prison officer had faked his death so his wife could claim their life insurance policies as they faced almost certain bankruptcy.
Both were jailed for more than six years after being convicted of fraud and money laundering.
Anne's confession to David about how her husband secretly lived in a studio apartment in the house next door to the family home for most of the time he was thought to be dead has made headlines across the world .
The couple even tricked their two adult children into thinking their father was dead.
The four-part ITV drama, written by acclaimed screenwriter Chris Lang (Unforgotten/Innocent) will air on consecutive nights.
It stars Eddie Marsan (Ray Donovan/Ridley Road) and Monica Dolan (Suitable Adult / A Very English Scandal) as John and Anne Darwin.
The drama has the same title as David's latest book, The thief, his wife and the canoewhich will be published by Hodder & Stoughton on Thursday 14 April.
David, who played football for Petersfield United and Petersfield Town Juniors, is also cast in the drama.
His character is portrayed by actor David Fynn.
For the past 18 years, David, 57, married with two daughters, has lived and worked in Miami, Florida, following a successful career in national newspapers in London.
He said: "It was such an incredible story that I decided to write a book.
"It's such an amazing story that you would really struggle to make it up.
"I am delighted that ITV has brought history to life in this new drama."
Actor Eddie Marsan said: "The story of how and why John Darwin faked his own death to defraud insurance companies is fascinating, and if it weren't fact you'd think it's unbelievable. .
"I can't pretend to understand what was going through his head when he made those choices."
Monica Dolan said: "It tells the story of the most outrageous fraud of modern times – and my favorite kind of drama is when the outrageous comes from the prosaic.
"As breathtaking as they managed to pull off this deception in the first place, it's how spectacularly the pair destroyed it as soon as they got away with it."