Jonathan Oosting is Michigan's Journalist of the Year; Bridge wins the award for best digital site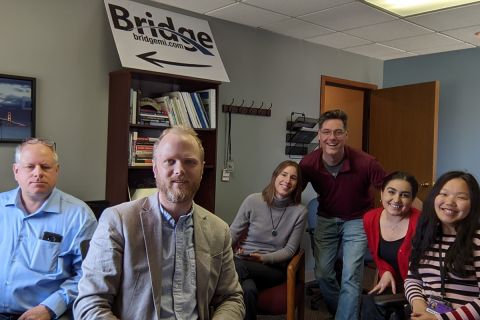 "Oosting is an excellent writer and knows how to capture and maintain the reader's interest," said Judge Tom Tolen, Journalist of the Year.
Related: Bridge Michigan bolsters Lansing, education and media coverage with new recruits
Fellow Justice Sarah Mahone cited "Oosting's determination to tell the story through the eyes of real people, from an Upper Peninsula state legislator and dairy farmer to small-town extremists , makes it clear that this is a problem close to home."
Oosting is from Grand Rapids and holds a master's degree in journalism from Michigan State University. He previously covered politics for MLive Media Group and The Detroit News before joining Bridge Michigan in 2019.
"Jonathan is one hell of a journalist," said Bridge Michigan editor Joel Kurth. "His meticulous reporting and encyclopedic knowledge of Michigan politics were never more vital than in the aftermath of the 2020 election, when he worked tirelessly to verify allegations of fraud and explore the dark world of extremism."
The Journalist of the Year award has been presented annually by the MPA since 2014. Current Bridge Michigan employees have been named Journalist of the Year four of the past six years.
Bridge Michigan data reporter Mike Wilkinson won the award last year; business writer Paula Gardner won in 2018 while working for MLive Media Group; Kurth won in 2016 while working at the Detroit News, an award he shared with colleague Karen Bouffard.
Bridge Michigan won Digital Publication of the Year in the statewide competition. Bridge has already won Newspaper of the Year four times in its 11-year history as the journalism organization, before a digital division was added.
Other awards won by Bridge Michigan and its staff:
History of freedom of information law: first place, Oosting, "Emails: Michigan sheriff sought to seize voting machines amid Trump claims."
Best Writing, through entries in all divisions: first place, Robin Erb, "He had dementia and COVID. She wanted to hold him when he died.
Excellence in Policing and Social Justice Reporting: Second place, Kelly House and Oosting for a series of stories about Northern Michigan's struggles against racism.
Economic/agricultural news: first place, Gardner, for "These people want to work". When GM and Flint advertise jobs, people line up"; second place, to Erb, for "Michigan Michigan Caregivers Got a $2 Raise During COVID. Should it be permanent? » ; third place, to Sophia Kalakailo and House, for "Wolf wars: As Michigan's packs grow, a battle brews to slay the predators"; honorable mention, to Gardner, for "In 'urgent need,' 1 in 5 restaurants in Michigan might not survive the winter."
Feature photo: First place, Daytona Niles, for "Virtual school blues"; second place, Niles, for "He had dementia and COVID. She wanted to hold him when he died.
Report: Second place, Erb, for "He had dementia and COVID. She wanted to hold him when he died.
Government/Education News: First place, to Ron French, Erb and Wilkinson, for a series of stories that pushed for government transparency in school reporting on Covid.
Company report: First place, Erb and Corrie Barrett of Side Effects Public Media, for a series on Michigan's mental health in children during COVID; third place, House, for "Loved to Death: Michigan's Iconic Crowd-Battered Shores."
News photo: First place, to Dale Young, for a photo of a young girl at a militia rally.
Public Service: Second place, to Oosting, Wilkinson and Madeline Halpert, for speaking the truth in post-election Michigan.