Canadian journalist discovers a talented hatter in Johannesburg – SAPeople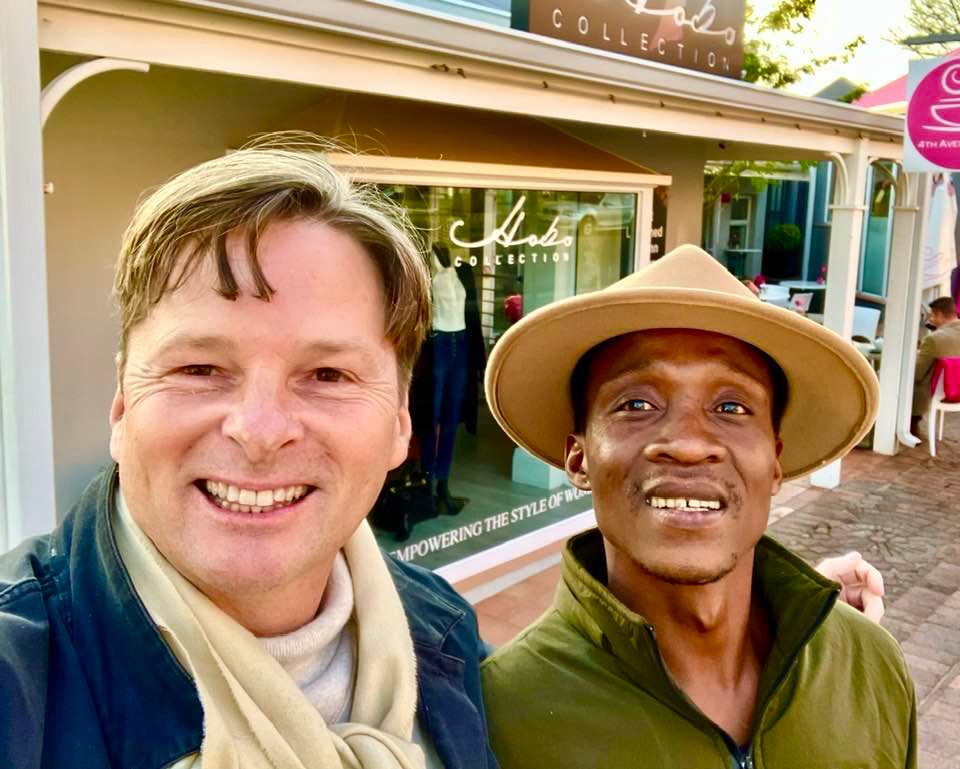 A year ago, a former Canadian journalist, now living in South Africa, found a man selling authentic Canadian Mounty-style hats on the streets of Parkhurst, Johannesburg. He was blown away by the high quality of the hats.
"I bought one but could never find it," Douglas Mason wrote on Facebook Tuesday. This week, he struck gold. He not only found Thabang, but the two went into business.
Thabang's hats – which are handmade by Thabang and his mother – are now on sale from the Free State Design Company inside Rosendal's Service Station Wine Bar.
The Wine Bar is owned by Douglas, who moved to the town of Rosendal in the Free State in 2014 after working in eastern DRC as a journalist and running a boxing club for former child soldiers.
Douglas was an editor at The Economist and worked across Africa, before landing in the Free State.
"I run a wonderful wine bar there – The Service Station – and I've renovated old houses downtown," Douglas told SAPeople. "I also have a design company there, the Free State Design company. And that's where I sell Thabang's hats. They are such beautiful hats and it was so unusual to find someone making Canadian style Mounty hats. We just had a business partnership right away. I'll sell all the hats I can. I'm already exporting to people in Canada.
Thabang and his mother make the "well-crafted" hats at their home in Orange Farm (a township south of Joburg).
"What Thabang and his mom are doing is wonderful, I'm so happy to have discovered their talent and to be able to work with them," says Douglas. "Thabang's mother worked for a hatter and acquired the know-how. What they do is on a very small scale now, they make the hats, then Thabang takes the R140 taxi (return) from Orange Farm to Parkhurst to sell the hats, driving down stylish 4th Avenue in Parkhurst.
Discovering this kind of "wonderful" talent is one of the reasons Douglas stayed in South Africa.
"We always find such remarkable creativity and talent in this country in unexpected places. This is what makes South Africa so attractive.
Douglas says you might be wondering why anyone would trade Canada – one of the most peaceful, prosperous and prosperous countries in the world – for "the chaos of South Africa"? But there is a simple answer:
"The country grants us anarchic freedoms and remarkable opportunities. I couldn't easily do the things that I do in South Africa in Canada – where I run a wine bar, a design company and own a building with an art gallery, all in my small town.

"It's also a place where we can make a difference in the lives of others, a positive difference, and do so almost every day."
You can take a trip to beautiful Rosendal in the Free State to enjoy and purchase Thabang hats from the Free State Design Company, located inside the Rosendal Gas Station Wine Bar:
"You can also buy direct from Thabang; he can be found strolling through Parkhurst every Friday and Saturday," says Douglas.