ABC reporter strikes gold and discovers Black Rod in line to see Queen's coffin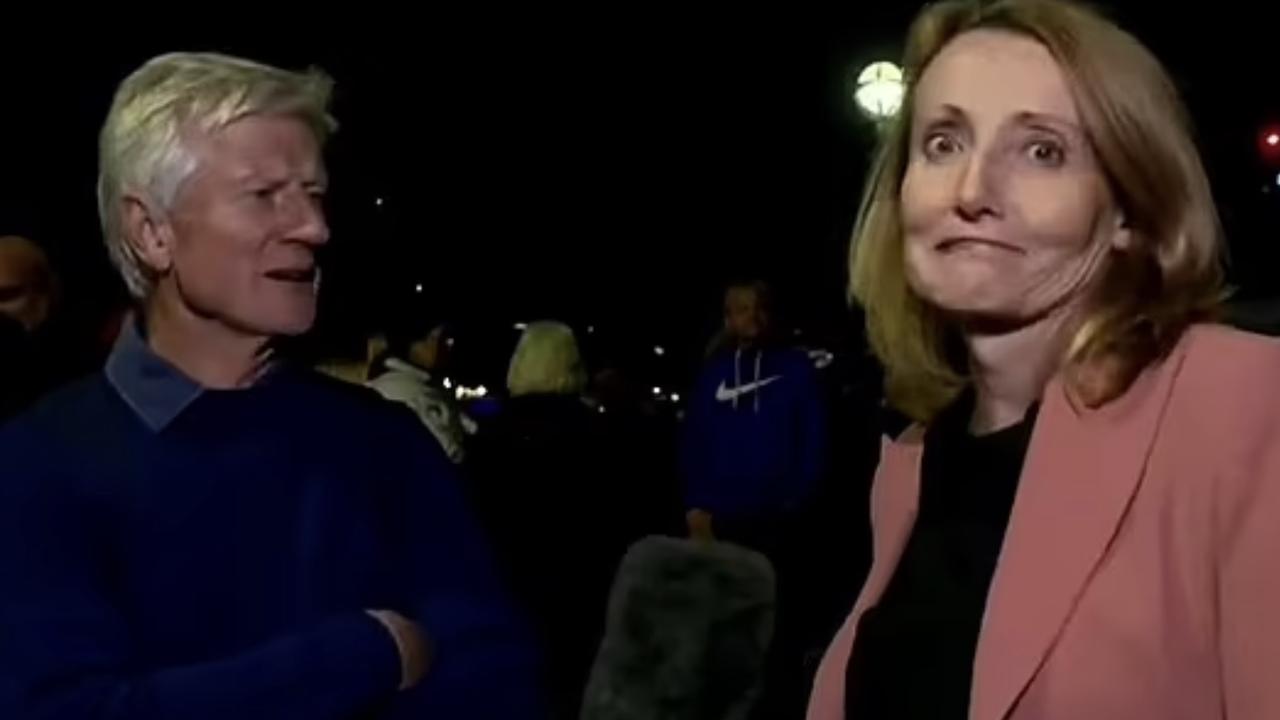 Veteran ABC reporter Barbara Miller unknowingly struck gold interviewing punters queuing to view the Queen's coffin at Westminster Hall.
The Scottish-born Australian TV reporter, who is the network's US correspondent but is currently in Britain covering the Queen's death, was crossing the long queue live in London when she picked a random man from the crowd for an interview.
He turned out to be Lt. Gen. David Leakey, 70, a former black rod in Britain's parliament, one of the highest posts in the House of Lords charged with keeping order and granting access to officials.
The illustrious position is also held by officials from various Commonwealth countries, including Australia, with representatives wearing black shoes with black buckles, silk stockings, black breeches, a black coat and an ebony shaft, which is used to knock on the front door. the opening of parliament.
Ms Miller was caught off guard by Mr Leakey's former profession, which he worked in for seven years until 2018, asking him to 'explain that [role] in Australia.
"Black Rod?" asked Mr. Leakey. "Well, you have a Black Rod in Australia, in the Australian parliament… Didn't you know that?"
Mr Leakey continued: 'So Black Rod is the Queen's representative in Parliament, and one of Black Rod's roles is to organize the whole event that takes place in the state of lie at Westminster Hall. I did this for seven years, and if the queen died while I was doing it, I would be there organizing and presiding over the whole thing.
"But I retired three years ago, and Sarah Clarke took over, and now I'm just a Joe Public and I've been waiting in line waiting to go see the outcome of some of the plans that I worked on for seven years."
Black Rod's role is significant in the official opening of Parliament and dates back to the 14th century.
Once the monarch has taken his place on the throne, Black Rod is sent to the House of Commons to summon MPs to hear Her Majesty's speech. The door to the Commons is slammed in Black Rod's face, with Black Rod then knocking on the door three times with their rod in a custom dating back to the 1600s.
In Australia, the Usher of the Black Rod is a central figure at the openings of parliament, responsible for announcing the arrival of the Governor-General and escorting the official party into the Senate Chamber.
Viewers watching live were delighted with Ms Miller's interview, with one pointing out that she 'owned' her ignorance before delivering a captivating conversation.
Elsewhere in the sprawling queue to view Her Majesty's coffin on Friday local time was footballing legend David Beckham, pictured wiping away a tear as he kept a low profile in a cap.
The former England captain joined the line to pay their respects, and it didn't take long for mourners to realize who he was as they demanded pictures.
As he entered the room, Beckham was seen nodding and wiping his eyes, before later explaining that his grandparents had raised him as a royalist.
"So this day was always going to be tough, and it's tough for the nation, it's tough for everyone around the world, because I think everyone feels that, and our thoughts are with the family and obviously to everyone here today," Beckham told Sky News.
"Because it's special to be here, celebrating and hearing the different stories people have to tell."
Queues at Westminster Hall were so long at one point that the government had to step in and stop people joining the queue, which winds for miles across London.
Read related topics:
Queen Elizabeth II